What Is An Electronic Sewing Machine – A Complete Guide
In recent years, there has been a massive increase in women using Sewing Machines.
Sewing Machines are helpful gadgets that allow you to save a lot of time and energy while making clothes. While having the Best Electronic Sewing Machine in a home might not be an immediate priority, it can provide many benefits and advantages when used per the instructions in the instruction manual. You can go through the instruction manual thoroughly and get complete information about the different options of the electronic sewing machine.
You can choose from several different sewing machines with additional features and specifications. Also, if you wish to buy the best electronic sewing machine, you should look for some good brands with an excellent reputation for quality products and services.
In this article, we will write all details about Electronic Sewing Machines, so you understand how they differ from other sewing machines. This guide will give you the basic knowledge, and you can use it to understand an Electronic Sewing Machine to its full potential.
Introduction To Electronic Sewing Machine
A few years ago, only Manual Machines were available on the market. Those machines were mechanical and used Shafts, Gears, Levers, and so on. This era of Mechanical Machines was until the 1970s, when the First Electronic Sewing Machine was introduced.
For independent control of Machines, the Electronic Sewing Machines gather Computer Chips, Circuit Boards, Motors, etc. New components were introduced, including Needle Positioning, Automated Thread Cutters, Buttonholes, Back Tacking, Stitch Patterns, and Stitch Combinations.
What Is Electronic Sewing Machine?
Electronic Sewing Machines are sewing machines that use electric motors to operate them. These electrical machines save lots of time and labor compared to manual sewing machines. With the invention of electric sewing machines, it became easier to operate them without lifting heavy materials.
Using an electric sewing machine, you can do different kinds of sewing jobs like clothes, quilts, bags, jackets, and shoes. There are various categories of these electric sewing machines, including industrial, domestic, embroidery, etc.
One crucial thing about Electronic Sewing Machines is the decreased lifespan due to the machines' complexity compared to Mechanical Sewing Machines with an increased lifespan.
Features Of An Electronic Sewing Machine
An electronic sewing machine is an affordable tool used to sew, embroider and knit patterns onto fabric. There are various models with varying sizes and functions. If you're new to this device, you might be wondering what this type of machine can do and how it can improve your life.
It sounds simple, but today's electronic sewing machines are incredibly complex. There's no single component to any of these devices because, in reality, a machine is an integrated system of interrelated components that all work together to achieve one specific purpose. The challenge is that the parts need to work correctly at all times, or the Machine won't be able to perform its function.
Some essential features of an Electronic Sewing Machine are:
01. Built-in stitches
An Electronic Sewing Machine has various built-in stitches, and you can switch between stitches according to your use and choice. If you want to do versatile sewing, you should go with a Computerized Sewing Machine as it has a lot of variety of stitches compared to Electronic Sewing Machine.
02. Selection of stitches
You can select your stitches by turning a dial attached to the sewing machine. These dials also have the number written on them, along with images of stitches. You can select the stitches as well as the size of stitches and tension of the thread by using these dials.
03. Free Arm Sewing
These sewing machines allow you to use the free arm sewing feature. This means you can put a straight stitch anywhere on the fabric. There are even some machines that will enable you to do Free-Arm Sewing. This is quite convenient for those of us who are already familiar with that aspect of sewing.
04. Automatic Needle Threader
These machines allow you to use the Automatic Needle Threader feature, which automatically threads the needle for you. The ability to thread the needle yourself can help save you a ton of time.
05. Easy To Load Bobbin
Bobbins are a critical part of any sewing machine. They allow you to load a thread onto the Machine for sewing. These machines offer you the easiest bobbin to load, the Easy Loading Bobbin. You can easily insert the bobbin and monitor the bobbin thread supply conveniently.
06. Automatic Button Holes
Most sewing machines have built-in features like automatic buttonholes, but these features can be taken advantage of. For example, automatic buttonholes allow you to start a buttonhole and sew straight through the material. This saves time since you can insert your needle into a buttonhole without having to adjust the Machine to match the position of the buttons on your shirt.
07. Foot pedal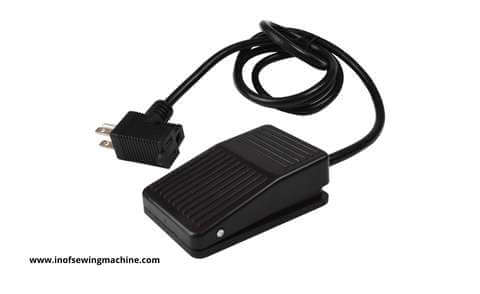 The Foot Pedal provides you with ease of work. Automatic machines come with the Foot Pedal, but you can also use most of them without foot pedals as they have an on/off button to run and stop the machine during the sewing process.
08. On-Board Accessory Storage
Many Electronic Sewing Machines come with built-in onboard accessory storage. This accessory storage allows you to put your compulsory accessories like extra needles, threads, thread snippers, etc.
Many electronic sewing machines, including the Brother MC870, already have many of these features. Some prominent features include a free arm with buttonholes and an embroidery area for attaching patches to clothing and embroidery, a built-in sewing table, and a digital screen. These features can help to reduce time and effort spent on tedious and repetitive tasks such as sewing on buttons.
09. Automatic needle position
An electronic sewing machine also has the full feature of an automatic needle positioner that keeps the sewing needle in a correct position when you stop stitching or use the automatic thread cutter.
10. Presser Foot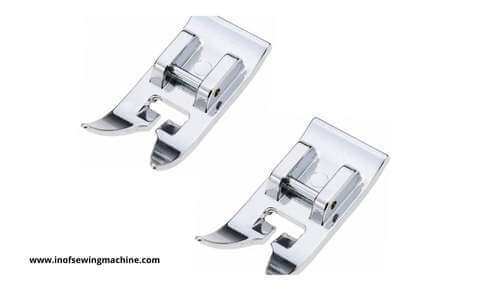 To use a different kind of Built-in stitches, sometimes you need to change the presser foot. For example, you must remove the presser foot for the buttonhole feature and use the Buttonhole Presser Foot. These machines allow you to use different presser foot for versatile sewing.
11. Needle Versatility
Electronic Machines can use different Types Of Needles for various purposes like Universal Needle, Ballpoint needles, Embroidery Needle, etc. 
This is a feature that is often overlooked and is sometimes even considered detrimental to a sewing machine. However, if a sewing machine doesn't have this feature, its quality will suffer; therefore, its value as a sewing machine will also decrease.
12. LCD Display
With the advancement of technology, it is now possible to find a sewing machine with a screen to monitor its progress and keep track of your stitches. The screen allows you to see the length of your stitch and the quality of the stitches.
Other Important Features
Electronic Machines often come with other features like Safety Features, Powerful Motor, Speed, Ease of use, price, etc. These features made electronic sewing machines more reliable and versatile than manual sewing machines.
Conclusion | What Is An Electronic Sewing Machine
In conclusion, sewing machines were invented initially by hand. At first, hand-sewing was considered an advanced skill that only the upper classes could afford. This attitude quickly changed as the popularity of sewing machines grew in the late 19th century. Now, with so many devices on the market, people are looking for ways to use them cost-effectively.
In today's digital era, finding the perfect sewing machine that will allow you to produce quality pieces is essential. With the rising cost of living, we need to find a way to ensure that we can continue to afford our hobbies without cutting back on spending. So, does the Electronic Sewing Machines are providing.
In conclusion, I hope this blog will be influential for you to understand what an electronic sewing machine is?
FAQ | What Is An Electronic Sewing Machine
What Is Electronic Sewing Machine?
An electronic sewing machine has a built-in computer. This computer controls the machine and tells the machine how to sew. It also gives you information about the project you're working on.
Who Made The First Electronic Sewing Machine?
Elias Howe was the man who invented the first Electronic Sewing Machine.
What is the Best Electronic Sewing Machine?
Brother Innovis A60SE is the best electronic sewing machine.
What are some advantages of using an electronic sewing machine?
Using an electronic sewing machine allows you to sew faster. It also saves time because you don't have to set the needle position.
Do I need special skills to use an electronic sewing machine?
No, you don't need special skills to use an electronic sewing machine.