How To Pack A Sewing Machine For A Flight – An Ultimate Guide
If you are like most of us, the idea of packing a Sewing Machine and other supplies for a trip may seem like it requires a lot of effort and time.
Many people like to travel. However, when you start traveling more frequently, it can become costly to fly to different destinations regularly. This means that sometimes, you have to get creative when you pack for a flight. While the typical advice is to bring a carry-on only to keep things light and organized, this isn't always possible or practical. There are some simple tricks for Packing A Sewing Machine For A Plane that you may find helpful.
Even the most minor details can significantly impact your traveling experience, so it's essential to ensure you're packing things up right. We'll show you how to take the hassle out of flying with our guide to the best way to pack your Sewing Machine. We will talk about different tips on packing and moving a sewing machine and some things you should always consider when packing your sewing machine.
Can I Take Sewing Machine On A Plane?
According to TSA (Transportation Security Administration) rules, you can bring Sewing Machine On Airplane as Hand luggage or book your machine as Check-In Luggage. Check for reference Sewing Machine Rules
Can I Take Sewing Needles On A Plane?
Yes, You can bring Sewing Needles On An Airplane. You can also bring scissors shorter than 4 inches in the blade. TSA approves these.
Other things not allowed to carry in airplanes are Long blade scissors, Razor Blades and box cutters, etc.
Travelling Rules
The recommended luggage size is almost 8kg in hands, and the baggage size is approximately 22″ x 14″ x 9″. Every airline has its rules, which are slightly different from other airlines.
Ask your travel adviser for the rules regarding the size and weight of hand luggage. Pack your sewing machine in suitable baggage that is easy to carry and handle.
Packing Your Sewing Machine
Remove any sharp objects which cause trouble during security check-ins.
Remove the needle from the machine, tape it flat on the sewing machine, or store it separately in check-in luggage.
Bring presser foot on its down position for stability.
Remove the foot pedal and cord and store them separately.
If Sewing Machine has a storage capacity drawer, Remove it if it causes an overweight of the luggage.
Pack scissors, Rotatory Cutters, and extra needles in Checked luggage.
Pack using Styrofoam as it is the safest way to keep your machine away from damage.
The rolling trolley is the best idea to handle this kind of luggage. So, it's better to protect your machine by packing it in a Travel case like Rolling Trolley.
Some particular kinds of bags only made for sewing machines are available in the market. You can get any of them and pack a sewing machine. Here is the link to Sewing Machine Bags.
Which Is Better? Check-In Luggage or Hand Luggage For Sewing Machine?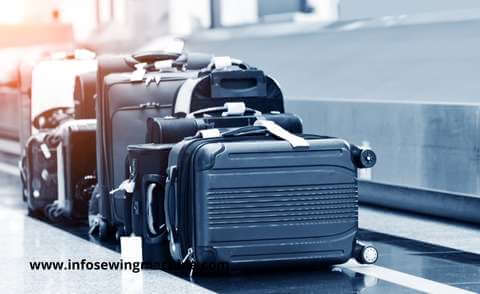 The first thing to decide about bringing a sewing machine via plane is to book it in check-in luggage or carry it with you as hand luggage. Let's consider some points.
Carry-on is safe as compared to check-in luggage. You will be more caring while carrying your machine with you.
If you have an average-weight sewing machine and can take it quickly, it's an excellent option to bring it in hand luggage.
Consider checking check-in luggage if you carry a heavy-duty sewing machine in its original packing box.
If you book your sewing machine in check-in luggage, write on the packaging FRAGILE. As fragile packages are handled with care by the airport security and luggage department.
Check-in luggage is a concern because when transferring your luggage via cars, wagons can be damaged because of road bumps. Or maybe the luggage is not handled with care.
How Can I Get The Sewing Machine Through The Security?
First of all, pack your sewing machine alone for your convenience. It will provide you with ease through security check-in. Maybe you have to wait a little bit by standing in the queue waiting for your turn.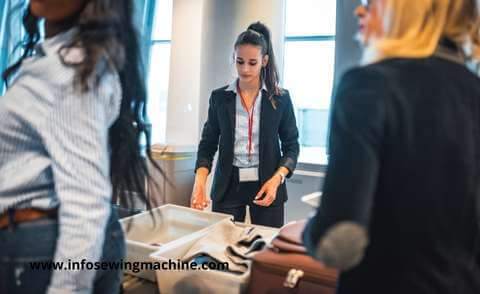 Security is not going to open your luggage except if there is something suspicious inside your luggage. They only pass your luggage through a scanning machine as a security, and in case of a suspect, they can ask you to open your luggage.
But according to the TSA, you can get a sewing machine on an airplane, so they will not suspect anything.
Quick Tips For Traveling With Your Sewing Machine
Following are some tips for your better traveling experience with your Sewing Machine.
Presser foot should be in its position
Needles should be removed before packing
Pack the sewing machine with its original packing and foam (if you have it); otherwise, try to wrap it in foam and put some clothes on its sides to avoid any damage while hitting the bag.
A trolley with tires is the best option. In this case, you have two benefits: less fear of harm and easy moving the bag from one place to another.
Scissors are not allowed during traveling unless smaller scissors.
Do not use Foam peanuts or packing peanuts.
Conclusion | How To Pack A Sewing Machine For A Flight
It seems like the ideal sewing machine should be able to fit in a tiny bag—that way, you can pack it and bring it on the plane with you! Check for weight limit so that you will not increase than the limit. Be aware of all the machine parts and try to keep the machine together. This includes all the attachments, the foot pedal, the hook and eye attachments, and other items like a bobbin case, thimble, or presser foot. Use Styrofoam for packing.
I hope this article was helpful for you to gain some information about How To Pack A Sewing Machine For a Flight? You can write in the comment section below if you have further questions.
FAQs | How To Pack A Sewing Machine For A Flight
Do I need to wrap my sewing machine in plastic before I pack it?
No, you don't need to wrap your sewing machine in plastic.
What kind of luggage should I use for packing a sewing machine?
It would help if you used hard-sided luggage, such as a suitcase or duffel bag because they are the most durable.
Is it safe to carry a sewing machine on a plane?
It's OK to carry a sewing machine on a plane with some precautions like a pack in a solid bag and if booked in check in luggage paste a tag of "FRAGILE" and if taking with you as a hand luggage use a trolley suitcase for easy handling and movement.