What Is An Overlock Sewing Machine – An Ultimate Guide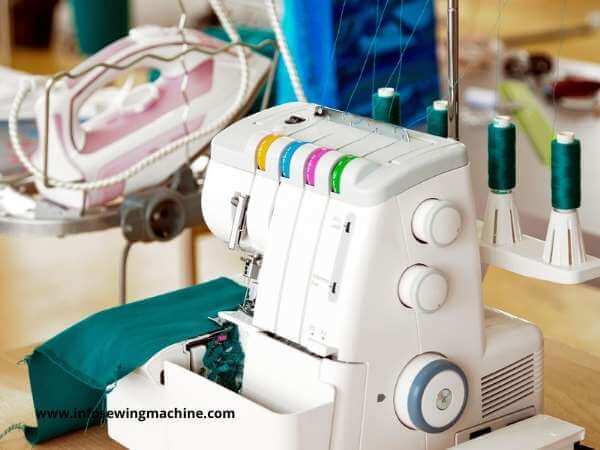 If you're reading this article, you probably have heard the term Overlock. It is a stitch which is used to sew edges, hemming or seeming. Overlock sewing machine is specifically designed for this purpose. This machine is specifically designed to cut corners on finishing the sewing process so it can complete it in one step. You can save time on finishing your projects. Overlapping stitches give you the best chance at a clean finish on finished clothing.
Overlock machines are one of the most efficient ways of producing a professional finish on your sewing. You are likely familiar with overlock machines, but what Is an overlock sewing machine exactly? Here we go through a detailed overview of overlock sewing machines, including features and benefits.
What Is An Overlock Sewing Machine?
An overlocker is also called a serger. An Overlock Sewing Machine is a type of sewing machine that uses a combination of zigzag stitches and overlocking stitches to sew a seam. It is used over the raw edges to prevent fraying.
This machine uses more than 2 threads at a time to sew the raw edges at the time. Some overlocker comes with automatic cutting scissors, which cuts the raw edges while overclocking the fabric.
Types Of Overlock Stitches
2-Thread Model Overlock Stitches
A two-thread model is used to stitch flatlock seams. It is sewn on the wrong side of the fabric. it is used to stitch elastic, laces, jogging suits, sportswear, etc
Cannot use in areas that receive stress
Used for finishing seam edges
Used for finishing decorative edges
They are used for finishing scarves, beddings, and other fabrics used in decorations.
3-Thread Model Overlock Stitches
The three-thread overlock stitch is most useful when sewing knits. Woven fabrics can be used to sew all materials, but they're not good for sewing fabric that will receive heavy stress.
This tool will work for making narrow rolled hems, sewing pintucks, and sewing fabric edges. It's made of three threads which makes it very flexible. You can use decorative stitches with various threads, such as crochet yarn, Perle cotton, buttonhole twist, lightweight knitting yarn, narrow ribbon, or metallic thread.
Some 3 thread models can be converted to do 2 thread stitching.
It cannot be used in areas that receive stress
Suitable for sewing woven fabrics
Suitable for sewing knitted fabrics
Used for shirts, skirts, dresses, blouses, lingerie, and swimwear
4-Thread Model With Chain Stitch & Safety Stitch
The chain stitch model is best for seaming woven fabric, and thesafety stitch model can be used to sew woven or knitted fabrics.
It uses two rollers and two needles. Some 4 thread overlock machines can be converted to do 3 thread stitching.
Used in areas that receive stress
Suitable for sewing woven fabrics
Not used in knitted garments because it can not be stretched
Used in sewing shirts, blouses, skirts, pants, sleepwear, and draperies
Use chain stitch when fitting garments
How Does An Overlock Sewing Machine Work?
In an overlock sewing machines, two needles pierce the fabric simultaneously, leaving a very small space between them. Then, the operator threads a bobbin or the fabric passes through a series of rollers (called the nipper) that automatically fold the fabric, creating a tuck. A second needle sews into the newly created tuck. This technique is faster and more accurate than other forms of sewing because you don't have to stitch through several layers of fabric.
Features Of An Overlock Sewing Machine
Overlock Sewing Machines use different Presser Feet For Overlock Sewing Machine, rolled hem, and applying elastic or cording. These machines have many accessories like a dusting cover, carrying handle, tool kit, built-in storage compartment, etc. Some basic features are below.
01. Size Of Presser Foot
Overlock sewing machines have a larger presser foot than other sewing machines. The pressure on most models can be adjusted to the weight of the fabric being sewn.
As the foot is so long, there is little need to feed unevenly while sewing. So check the position of the foot.
02. Tension Marks Or Signs
Tension dials are used to adjust the tension of the thread.
The tension dials on many machines use a numerical marking to indicate the degree of tension. The sign indicates which direction the dial is moving. However, some machines use + or – signs instead.
On some machines, tension dials are so sensitive that you have to twist them just a bit to adjust the thread flow. But in some machines tension dial must be turned many times before their tension changes.
03. Threading Process
Overlock Sewing Machines come with coded threading. This means colors, symbols, or numbers may be used for threading. Each color, symbol, or number may indicate one threading system completely.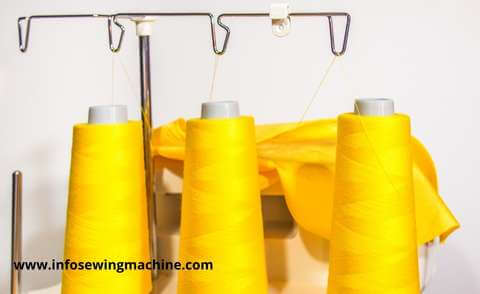 The thread stand comes with the adaptors for spools of threads.
04. Cutting Knives
Overlock Sewing often comes with the special feature of cutting knives. The cutting knives enable cutting the extra fabric while sewing. But you can disengage the cutting knives if you don't want to trim the fabric.
05. Special Stitching Features
The throat plate or presser foot of the overlock machine has a special stitch former that is not available in other sewing machines. Some machines have adjustable stitch widths (typically between 0.1 mm and 5 mm), but in some machines, the throat plate or presser foot (on a serger) must be changed when the stitch width is different.
06. Upper & Lower Loopers
The most difficult threading part of the overlocker. You can not easily thread it directly using your hands. you need a special tool and a pair of tweezers to thread it. This tool and pair of tweezers come along with the accessories of the overlocker. Just remember, the lower looper is always threaded first.
07. Power Switch
Overlock Sewing Machines has a Power Switch feature, enabling a user to turn on and off the machine.
08. Threads Variety
These machines use special threads; however, standard threads can also be used. These machines use a lot of thread (maybe 2 times more thread than conventional machines). A 1000 yards cones are available in the Market to use in these machines.
09. Stitching Length
Overlock Sewing Machines have the feature of adjusting the stitch length, which varies from machine to machine. Some machines have buttons, switches, or adjustment dials to adjust the stitch length. You can also adjust the width of the stitching. The stitching length affects the stitching structure as well.
10. Built-In Light
These machines have built-in lights, which automatically turn on when you switch on the overlock sewing machine. It enables you to use the machine in the proper light.
11. Special Needles
Overlock Sewing Machines work with special or conventional Needles. But you must be careful while using the machine that you are using which kind of needles for which kind of fabric.
Caring Instructions For An Overlocker Sewing Machine
Proper care is necessary to increase the life span of any sewing machine. So does the case of the Overlock Sewing Machine. Some Care instructions are given below.
Why Buy An Overlock Sewing Machine?
The answer to this question is easy. A sewing machine is an appliance that helps you save time when you sew. So why not buy one? But, there are many reasons to choose the overlock machine over others. The primary one is because it lets you finish your project in a neat and clean look without ripped edges. The other major benefit of the overlock machine is that you can sew elastic edges of different layers, provide finished seam, and snip extra fabric.
Is There Any Difference Between An OVer lock And A Zigzag?
Overlocking the seam allows you to give a fabric a finished look while zigzagging creates a nice, crisp line. It provides a decorative stitch and does not gives you a finished look.
The difference is subtle, but if you're looking for a visual cue for each type of seam, they should look quite different. Overlocking your seams keeps the fabric opaque and prevents you from seeing the stitches used while zigzagging your seams will expose them.
Is it Worth Getting An Expensive Overlock Machine?
Is it worth spending a few thousand dollars (on top of the cost of a new overlock machine) on increasing the productivity of your sewing life? The short answer is that it's not necessary—if you're just getting started. There are plenty of excellent inexpensive machines out there, and there's no need to spend money you don't have.
But suppose you are professional or have money to spend on the expensive overlock sewing machine. In that case, I'd strongly encourage you to get a high-end machine because it will dramatically improve your productivity, results, and quality. However, if your budget is tight, you can still have fun, enjoy your hobby, and make some great clothing without breaking the bank.
Conclusion | What Is An Overlock Sewing Machine
In conclusion, if you want to know more about an overlock sewing machine's features, check out this article I've created. Here in the article, you will find a quick breakdown of what you should look out for in an overlock sewing machine: the number of needles, the number of presser feet, whether the machine has a built-in fabric cutter or requires additional attachments, the number of stitches per inch, needle size, and whether or not the machine has automatic or manual threading.
The overlock sewing machines are not the same as a sewing machine. An overlocker is a machine that sews with a different purpose. Overlockers are used when finishing the seams on a garment.
Get one today and start making beautiful clothing like a pro!
FAQs | What Is An Overlock Sewing Machine
What's the difference between an overlock sewing machine and a regular sewing machine?
Regular sewing machines are used for stitching, while Overlock machines give that stitching a finished look.
How do I care for my overlock machine?
Overlock machines are like regular sewing machines. They need to be cleaned regularly.
Can I use a regular sewing machine for overlock sewing?
Yes, you can use a regular sewing machine for overlock sewing. You have to use a different needle. But it could not finish the frayed edges of the fabric.
What do I need to know before I use an overlock machine?
Before you use an overlock machine, you need to know how to thread it. Threading directions are displayed on every overlock sewing machine.
Do I need special skills to use an overlock sewing machine?
No, you don't need special skills to operate an overlock sewing machine.